seaQuest: The Dawning


Nathania Kai Bridger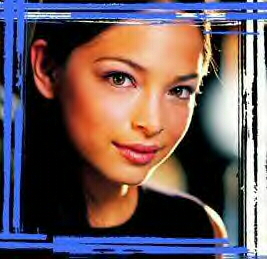 Name: Nathania Kai Bridger
Age: 21
Resides: My tour bus, hotel rooms, the studio in NCQ, New York, or London, on stage, Bridger Island, FL,...I do have a house in New Cape Quest, but I never get to see it.
Occupation:
Classically Trained Singer/Pianist
Graduate of the Julliard School of Music
Upcoming Projects:
*I just released my first album, Lighthouse, on Siren Records.
*I'm soon to be headed out on tour, check back for tour dates.
And the BIG NEWS?
I'm recording a duet with Brennen Alexandre, whom I've known since we were children! It'll be released as a B-side to my next single, and possibly on an upcoming ::gasp:: Brennan album.
Relatives:
Uncle: Captain Nathan Bridger
Sister: Natalie Madeline Bridger
Romance: Definately not single.
(And no it's not Brennan)
VOICES Monthly Presents:
The Light On The Water: Nathania Bridger talks about her new album and her strong ties to the sea.
ARTIST: Nathania Bridger
ALBUM: Lighthouse
Q~ Many of the songs on the album focus on the ocean and images of water. Was this intentional or just coincidental?
A~ ::laughs:: I guess that's the Bridger side of me shining through. So many members of my family are sailors, oceanographers, scientists, each one so strong in their love for the sea that some gave their lives to it. Each of them has instilled such a respect and a love of the ocean in me. It's the only place I feel completely at home, and I guess it's just natural that it should make its way into my music.
Q~ Do you have a favorite song on this album and why?
A-~Hmm...My favorite song changes every day. But most often it is The Water Is Wide, which is known in my family as "the song that started it all". It was the first song I ever learned to sing, I mean, I was knee high and about 3 years old at the time! My Uncle Nathan and Aunt Carol taught it to me. The way I sing it has evolved over the years, but it is still the same song to me. And every time I sing it, I touch that place inside of me that is a toddler, sitting on the steps of my Uncle's house, watching my aunt sing.
Q~ Your name is so interesting! What is its origin? Its beautiful.
A~ Thank you so much! My name is actually the feminine form of Nathan, my uncle. I'm his namesake. My middle name is Kai, which in Hawaiian means Ocean, (my father was stationed at Pearl Harbor when I was born). So, I guess, when you look at the fact that Nathan is a UEO Captain and my middle name means Ocean, I'm just destined to sing about the water!