seaQuest: The Dawning


Lt j.g. Arina Frost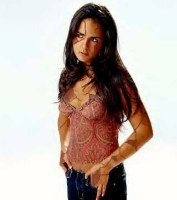 Name: Arina Frost
Age: 22
DOB: May 4, 2000
Place of Birth: Dagger Island
Gender: Female
Rank: Lieutenant J. G.
Interests:
Astronomy, Photography, Antiques Road Show, Outlandish Gardening, Whale watching, hiking, and reading.
Languages:
Fluent in English, and United Nations Sign Language
Education:
Dagger Island
Bangor Naval Base, Seattle, WA
Trained in Hand to Hand combat
Brief Medical knowledge
Service History:
2021-2022 ~ Medical assistant to Dr. M. A Frost; Bangor Naval Base, Seattle, WA
2022 ~ Assigned to serve on seaQuest DSV 4600 under the orders of Capt. Rozalinn Lennox
Character Background:
Arina along with a handful of other GELFs were taught and raised in a small section of Dagger Island by some of the UEO's highest science officers. After the revolt lead by Maria, Arina was shipped off to Seattle, WA to live with Dr. M. A. Frost and further her education and training.
While living with Dr. Frost Arina finally learned what it was like to be loved, and in return learned to love. She has a close relationship with Frost, and keeps in contact with him whenever she can.
Character Personality:
Emotional, kind, protective, determined, intelligent, and trust worthy.
Physical Description:
The race of every man is evident on her skin.
Height: 5'7''
Hair: Brown
Eyes: Brown
Medical History:
No history was saved while she was on Dagger Island, and no medical conditions since the release.